Shackleton Gallery
Welcome to my pottery site and thank you for your interest in handmade contemporary ceramics. This website features my wood fired work and mono printing. A tour of the site will introduce featured artists exhibiting their work. It also features ceramic news and events and ceramic related links.
For further information, don't hesitate to contact me or for regular updates or click on the facebook icon below.
Cher Shackleton.

The Studio Gallery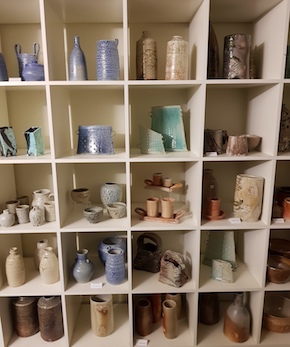 My salt glazed, wood fired ceramics are on sale in my studio gallery.
2/16 Peel Rd O'Connor
The studio is temporally closed.
Ph 0408 904 271 or email chershackleton@gmail.com
Online Exhibition
Welcome to the Shackleton Gallery online exhibition.
Every four weeks we will feature a new artist and showcase their work.
If you wish to purchase a piece from the exhibition please email the Gallery using the contact page.
The current exhibition features Gail Hawes
.
Click here to view our online exhibition.